Annually 1,200 people die each year due to Watchtower's "No Blood Policy" aka Blood Transfusion Ban.
To put that into perspective, if one were to use the Jonestown massacre as an example their final death count was 909.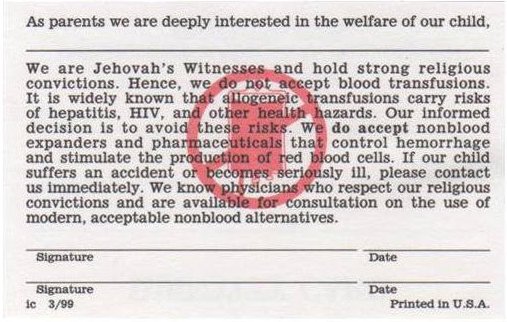 The Organization implemented its "No Blood" policy in 1949, followed by the first death, Samuel Muscariello.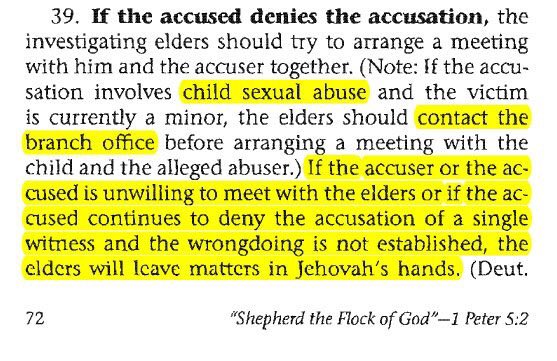 However the 1,200 does not include deaths involving suicide, substance abuse, or victims of domestic violence due to Watchtowers lesser known policies including:
* Their "Two-Witness Rule" that silences victims of sexual abuse.
*Their cultural practice of shunning former members including those who have been sexually abused and silenced by Watchtower policy, or are suffering from known mental health or substance abuse issues.
*Lack of resources for mental health or substance abuse/their practice of heavily discouraging members who are suffering from said issues from seeking outside help via therapy or rehabilitation programs.
* Shunning members that go against their counsel and report abuse, seek therapy, or become involved with an outside program, to the point of devastation.
Watchtower is currently under investigation in several countries for their policies on shunning, child abuse, blood transfusions, and propaganda in their publications.
Much of this is still dramatically unfolding as we speak.
What is Memorial on Memorial?
Memorial on Memorial will occur on April 19th worldwide, the same day as Jehovah's Witnesses will be holding their annual Memorial of Jesus Death, also worldwide.
Vigils will be held by former members, activists, and allies worldwide in memory of those who have lost their lives to Watchtower policy and culture.
Our goal is to show honor to those who passed, and use their memory to spread awareness of the toxicity of this culture, a culture that shuns and turns away those who opt to have lifesaving medical treatment, wish to speak out or go to the authorities about their sexual abuse, or are domestic abuse victims left unheard by their elder bodies and left in abusive environments, instead of being encouraged to find a safe place for themselves and their children or outside professional help from authorities, doctors, and their community.
We also view these issues as a matter of public safety, and not only members of the Watchtower Society are affected.
Although we are primarily acknowledging Watchtower's policies, culture, and actions this Memorial they are far from alone in this issue. Many Organizations worldwide have similar policies that are endangering the community and contributing to a culture of silence, shunning, and shame in our international community..
Memorial on Memorial believes that one does not have to change their core beliefs to change their policies.
This has taken enough lives.
We are calling for change.
Official Memorial on Memorial Locations:
Columbus, Ohio lead by Sharon Tyson, Emily Wincek, Mick Pilar, and Dianne Purdy.
Brazil lead by Alex Brito
Galveston, TX lead by Theresa Gordon
Portland, Oregon lead by Arden Peacock-Gutierrez
Nashville, TN lead by Pony Jean Parker
Boston, Massachusetts lead by Rick Fearon
Brooklyn, New York lead by Chessa Manion.
To join us at an official vigil location or to have a Memorial on Memorial represented in your area, email us at useourvoice@gmail.com.
Links:
– Memorial on Memorial Facebook page 
– Memorial on Memorial Event Page
In Loving Memory Of:
Timothy Manion, Donald James Peacock (suicide), Laree Slack (domestic violence),  Douglas Ray Carson III, Vivian Medina Kenyon (no blood), Donna Lynn Sawyer (suicide), Seth Isaac Eckert (suicide), Craig Eckert (no blood), Kyle Tarrant (no blood), Tracey Remple (suicide), Phil Rush (suicide), Sara Trevin Fleming Swartz (no blood), Harold Milum (no blood), Julie-Ann (suicide), Yvonne Leighton (no blood), Peninna Risgaard (suicide), Eileen Sumrall (no blood), Daniel (suicide), Melanie Middleton (suicide), Joshua Walker (no blood), Vladislav Roslyakov (suicide), Whyit Heckler (suicide), Laura Gracey (suicide), Luke Conroy (suicide), Zack Harrell (suicide), Alan Martin (no blood), Curt Dobanovich (suicide),  Eddie Fuller (suicide), Rosalie Opp (suicide), Marilyn Almond (suicide), Dwayne Fagan (suicide), Mary Jane Pelly (suicide), Anthony Akers (suicide), Trevor Bargas (suicide), Adrien Webb (suicide), Carolyn Nielson (suicide), Craig Button (suicide), Christopher Sherril (suicide), Ian Houle (suicide), Eric Reeder (suicide), Madison Horton (suicide), Nathan Lewis (suicide), Juan Marin (suicide), Jacob Reames (suicide), Randy Follis (suicide), Omar Medaro (suicide), Camille Querin (no blood), Steve French (suicide), Ronnie Sissie Purtee (suicide), Richard Niel (suicide), Tamara Jefferson (suicide), Ash Redford (suicide), Pascal Smeets (suicide), Richard Wheelock (suicide), Kathryn Brackett (suicide), Robert Follis (suicide), Nathan Savarie (suicide), Lacey Crawford (suicide), Paul Hand (suicide), Amy Grier (suicide), Danny Tyson (suicide), Dianne Ruttan (no blood), Paul Holmes, Sara Fleming, Steven Stuart (domestic violence), Bethany Stuart, (domestic violence), Dan Stuart (domestic violence), Lauren Stuart (suicide), The Millers (domestic abuse), Trevor Trevino, Michelle Trevino, Cory Trevino, Marisela Trevino, Sandy Grier, Victoria Climbié (domestic violence), Stephanie Winger, Samuel Ewalt, Daniel Dorsey Dowen, Kelly Scott Kjersem, David Doiron, Taylor Estrada, Darren Dudson, Zack Kozeleski, Rachel Adams, Rick Robinson, Angela Jean Shipperley, Leatta Pilar, Debbie Hayhurst, Cameron Barbaree.
If You would like to add a name to the list, please contact us.